Born September 6, 1935 in Guadeloupe (French West Indies), into a family of civil servants who didn't want him to aspire to a "jugglers" career, André began playing music at an early age. Fascinated by discovering American music, he started to perform in Guadeloupe, in 1949 at the age of 14, as an accoustic-bass player with the BRUNEL AVERNE ORCHESTRA (EL CALDERON) and as drummer with EL CALZADO, playing Merengue, Valses, Biguines and Mazurkas.
"As far as I can remember, only one thing counted for me: music. When I was young, it was the Antillean music, the Biguine, I lived in, I knew what it was... one of our neighbours in Pointe-à-Pitre possessed a radio, there I could listen to Perez Prado (with whom André later played) and other Puertorican and Cuban orchestras... all rhythm and simple chords. In the evenings, we listened to the Voices of America: Paul Whiteman, Louis Armstrong, Benny Goodman, Tommy Dorsey... I was 14 or 15 years old and I was fascinated by the way Americans speak English - I went to see Western movies in original version: that´s the way I learned English...".

"One evening, I went to play maracas in an orchestra. Then I have played the drums during some time with EL CALZADO... Not far from the place I was living, an old man, called Gabriel, played classical guitar. That has given me a mad desire to have a guitar." When he knew that, the old Gabriel began to show him the fingerings, the chords and encouraged André to buy his first guitar. "I have bought my first guitar, bargain, then. I also played a little bass - not to make in an orchestra Antillean isn´t very complicated. I replaced the bassist of the orchestra EL CALDERON JAZZ. That had nothing to do with Jazz ! Over there, they believed that Jazz meant drums. The bandleader of the orchestra bought the bass and the drums, the drummer only comes with his hands, and someone writes the name of the orchestra on a thick case... El Calderon was one of the best orchestras of Guadeloupe, it was the only one in the Antilles whose musicians knew how to read music. Then I have met a guy who played violin; he had a brother, a former lieutenant, who had made musical studies in France and played the violin and the guitar. When he was paralyzed on both legs and could not move, his brother told me to go and see him: I valued his company and he gave me some harmony lessons. He taught me a lot. In 1956, I met ROBERT MAVOUNZY, an authentic musical genius, but he never knew how to profit from his talent. He had come back to the Antilles and looked for accompaniment."

André toured the Antilles with the ROBERT MAVOUNZY ORCHESTRA and played at the 'Olympia' of Fort de France/Martinique. "At my young age, I didn't want people to take music as fun, I wanted them to listen... it was Robert, who told me not to remain here, that it is necessary to go to Paris."

After arriving in Paris in 1957: "...looking for a hotel. I had 250 Francs in my pocket. Somebody told me later, that this wasn´t serious. I stayed in Paris and didn't know anybody. We took a small breakfast, he told me to let my suitcase and to follow him. We went to the 'Bar Parisien', Pigalle Square, and he phoned one of his girlfriends. Ten minutes later, she was there. On his demand, she found a hotel room for me, for 5 Francs per day, Abbesses Square... The first night, I went to Pigalle where I met all Antillean musicians of Paris. They all were dressed up very well, ties and the whole stuff. I introduced myself; some knew me, the others hardly spoke with me. I fell over EMILIEN ANTILE and some of those who had left Guadeloupe at the same time. They exclaimed: "Hey, guy, what are you doing here?" They told the others: "That´s the boy somebody has talked about, the small American, that is him." I was adopted immediately. I met ALBERT LIRVAT, the trombonist, who asked me, why I didn´t go to 'La Cigale' that evening; I asked about the address and went there. I almost didn´t have a cent for fifteen days.

The bassist of 'La Cigale', Luke Davis, he also was a singer, looked for a substitute. He asked me if I could step in; I answered that I would try but that I didn't know the repertoire. He told me that he could teach me and that I didn´t have to know how to read music. He offered me to come to his home to teach me. That´s what I have made and, fifteen days after my arrival in Paris, I´ve had the luck, to being able to work as a bass player at La Cigale with the ALBERT LIRVAT ORCHESTRA for one year. Albert told me, it was incredible: I didn't know anything about music but my playing sounded well. At home, we played the bass, protecting the two fingers which pull the strings with leather. The first night, after the first set, all my fingers were inflated. I showed my hand to the chef of the orchestra who told me that he was sorry but that I have to play until the end. And I did that ! The regular bassist had to come back one month later but he had found another engagement, so he asked me to remain. After two or three months, one began to speak of me, saying that the bassist of La Cigale knew how to play well. But it was too heavy, cumbersome, and it was necessary to remain standing all night long... I wanted to play the guitar, but in Paris that was not easy.

There was a pianist, BART TAYLOR, who conducted the orchestra of the 'Crazy Horse Saloon'. One day he looked for a bassist at La Cigale, he listened to me and offered me to sign a contract to play in his trio immediately. I told my boss that I would take the chance to play with an American pianist who was able to teach me a lot. Albert, a stylish guy, gave me fifteen days to find a substitute. I didn't play the guitar yet, but I learned a lot regarding Jazz. I moved.
I had a record-player then and I listened to music (like BENNY GOLSON for example) the whole day. I began to have enough of playing the bass and wanted to play guitar. I wasn´t able to express myself on a bass, because I didn´t really study that instrument, I didn´t know the basics and I only played from the ear, what I heard on records. I realised that it would be necessary for me to work a lot and that I didn't really want to play the bass. The transportation by cab caused a lot of problems. While working at the 'Crazy Horse Saloon', I saved money and bought a guitar. I worked all day in my room, learning all the pieces, during two years.

At La Cigale, I´ve learned a lot of Jazz standards and knew the chord changes from listening. I listened to other bassists playing things that I could not play, because of the lack of technique. Mostly, I played good bass lines, but I was limited. There were some musicians, like ALDO ROMANO and JEAN-FRANÇOIS JENNY-CLARK, who came to listen to me and I often went and sat down at the 'Le Chat Qui Pêche'. Later Jean-François told me that he wanted to become a bassist, because he heard me playing. One knew me as a bassist and not as a guitarist.
I didn´t have the least technique on solos, but I swung ...

One evening, at the 'Crazy Horse', ERROLL GARNER asked me to make beef. While he played, I pulled the strings that strong that I broke my bass: the rack had jumped. After, I left with my guitar and my amplifier to make beef... Another evening I went to the 'Club Saint-German' with EMILIEN ANTILE, the alto-sax player, who has died. He played like Charlie Parker, concerning speed and the rest. He copied Parker, if you asked him to play blues, he played it in the manner of Bird precisely.
DANIEL HUMAIR played with MARTIAL SOLAL then and I asked to play with them. They thought that I was American, although I spoke French. I played two pieces with them. Then, Daniel asked me where I came from and if I had work. My manner to play interested them and from this moment on I began to be known as a guitarist. JIMMY GOURLEY and RENÉ THOMAS played at the Blue Note and every night, after my set, I went to listen to them and looked at their fingerings. They really impressed me, at that time, they were the best guitarists in the city."

Later, André Condouant played in the big orchestra of BENNY BENNETT, in the 50ies the most popular Latin dance-orchestra installed in France. Benny had to go back to the United States fast to escape the revenue office, to whom he owed 120 bucks, so Condouant played with Cuban, Antillean orchestras and tango formations... For the pleasure, he played at the 'Blue Note' with the big BUD POWELL. Then he toured France with BENNY BENNETT, and with MICHEL PORTAL and YVAN JULIEN. He also was guitarist with LÉO FERRÉ.

The year of 1959 first took André to Africa, again with ALBERT LIRVAT.

Playbill from 'Paris Mes Amour'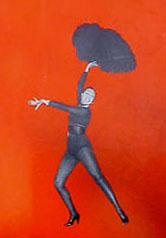 With BENNY BENNETT he toured through Tunisia. Back in Paris again in 1960, he played at the 'Olympia' theatre with the AL LIRVAT ORCHESTRA and ROBERT MAVOUNZY. They accompanied JOSEPHINE BAKER in a musical autobiography called 'Paris Mes Amour', initiated by Bruno Coquatrix, which marked her return to the musical world from retirement. The revue raised funds for the several children she had adopted into her multi-ethnic "Rainbow Tribe".
>> book about the revue

After this period, in 1962, André departed to Scandinavia: "GÉRARD LAVIGNY had a contract for one month in Stockholm and proposed me to go with him; I accepted. The first thing I asked for, when arriving over there, was the address of the 'Golden Circle', the Jazz club, where all the musicians met. After my gig, I went there - there was GEORGE BENSON, he was part of the trio of the organist JACK McDUFF, the drummer was JOE DUKES. That made you fall on your bottom. That swung ! George Benson played on an a small guitar with an incredible technique. I have listened to GOURLEY, THOMAS, PIERRE CULLAZ and all the Parisian guitarists; compared to Benson, they had not much to say; he played so fast and, though, one could distinguish every single note. He knew how to play. Every evening, after my gig, I returned to the Golden Circle. There I made the acquaintance of IDREES SULIEMAN and LEO WRIGHT (former saxophonist and flutist of Dizzy Gillespie). I lived at Sulieman´s, and I have worked a lot on the guitar and learned how to read notes. Idrees taught me a lot, like pieces of Charlie Parker - he plays alto as well as the trumpet. I´ve had an engagement at the Golden Circle with him for two weeks... In Scandinavia, I toured through Jazz clubs, and I´ve been welcome. This isn't astonishing: in the 50ies, Northern Europe reserved a raving welcome for Bird, Charlie Parker, and his formation. Gone for one month, I remained there for two years and a half. There my dream was achieved: during three years, I have played concerts with the Jamaican KEN HUNTER, GEORGE BENSON, MAX ROACH, ALBERT AYLER and with LEO WRIGHT... in Copenhagen I performed with BEN WEBSTER.

In 1964 LEO WRIGHT, who also had an engagement at the 'Golden Circle', offered me a contract for a tour with his quintet, to Czechoslovakia and East Berlin. I quit my contract and participated at the first Jazz-Festival Prague." The LEO WRIGHT QUINTET / SEXTET featured: LEO WRIGHT (as, fl), BENNY BAILEY / CARMELL JONES (tp), JIMMY WOODE (b), JOE NAY (dr), "DR. BLUES" CANDY GREEN (p, voc) / KENNY DREW (p) and ANDRÉ (g). The Czech label Supraphon released the album 'Echoes From The Prague Jazz Festival' in 1965. Among the artists were BENNY BAILEY, ANDRÉ, CLARENCE "CANDY" GREEN, DONALD "BABY" DOUGLAS & THE BLACK JAZZ OF EUROPE, ROLAND HAYNES on bass, FRED BRACEFUL on drums, the PRAGUE DIXIELAND BAND and ZDENEK PULEC on trombone. A. Condouant and DONALD "BABY" DOUGLAS & THE BLACK JAZZ OF EUROPE playing a tune by Sonny Rollins: 'Sonny Moon For Two'.

"At the end of the tour, he asked me about my plans. He told me that there was going to open a new club in West-Berlin, in some weeks, and asked me if I wanted to join him. I accepted. There, I could enter the American 'clan' where Jazz is a real religion; they are Insiders in a way... there were guys like ERNIE SHEPPARD (Duke Ellington´s bass player), JOE HARRIS, CARMELL JONES, JIMMY WOODE, and a lot of G.I.´s ... as if I was in the United-States.

One month later, 'Dug´s Night Club' (in Schoeneberg´s Hauptstrasse) opened. We (The Leo Wright Quintet) were the house-band and sometimes other musicians came to join us after their concerts. The owner of the club, Dug, was an American army sergeant, he was tough. He spoke in a very rude way but was a charming type. I am French, from of the islands and I didn´t like that he spoke to me like that, I quit with those things and I told him not to speak to me in this manner. He was disconcerted and asked "where does this negro come from?", somebody told him that I wasn´t a 'geecher' (member of the allied forces, in post-war Berlin), therefore not an American. He said "oh, that´s good" and since that moment we had a good relation. I was not easy to bamboozle and they understood it. If I was American, he probably would have spanked me, do you know that I want to say? I´ve met all types who passed by there and I really got to know them. THELONIOUS MONK, CHARLIE ROUSE, RON CARTER, all big musicians".

During that period, the LEO WRIGHT QUINTET also played at Berlin´s 'Blue Note' (Nuernberger Strasse) and at the 'Jazzgalerie' (Bundesallee). The latter club used to hire a rhythm section, from a few days up to three weeks at a time, which was accompanied by guest artists on a regular basis. The Quintet was joined by musicians like DEXTER GORDON, JAKI BYARD, PONY POINDEXTER, ART FARMER, DON BYAS and BOOKER ERVIN, just to name a few.
"I remained in Berlin for six years, I have married a German - I have a daughter (Julia), who was born in 1965 - and I spent the biggest part of my time there; it was there where I met my pals. A lot of people believed that I came from the United States, there were many Americans in West-Berlin, it was a bit as if you were in the United States. I have lived with them, spoken like them and they influenced me a lot. It was quite new for me, they were so open. Their way to speak, American English, is like what my native language, the Creole, is to French. I loved to speak American, that appeared natural and more direct to me. I felt at home with these people; white or black, I was with my people".

In 1965 the Leo Wright Quintet went on a Germany-Tour: at the West-Berlin Jazz Festival André met JIMMY SMITH, RON CARTER and HERBIE HANCOCK. The Quintet also performed in Dresden, East-Germany at that time. The Amiga label released two live-albums, which are part of the same concert, entitled: 'Modern Jazz Studio No. 4' and 'Flute & Alto-Sax', with LEO WRIGHT (fl, as), ANDRÉ (g), "DR. BLUES" CANDY GREEN (p, voc, cl), WOLFGANG KRAESSE (b) and HARTWIG BARTZ (dr).
During that, and the following, year the political cabaretist WOLFGANG NEUSS made waves in Germany with his live-program 'Neuss´ Testament' (pun of his name, "neues" means "new"), which was based on texts by François Villon, and accompanied musically by FATTY GEORGE (cl), FRITZ PAUER (p), ANDRÉ (g), HANS RETTENBACHER (b), HARTWIG BARTZ / JIMMY PRATT (dr) and sometimes LEO WRIGHT. The Philips label recorded the show, then Austrian Preiser label released it. Performances took place, among others, at Berlin´s 'Theater am Kurfürstendamm' (February 11 & 12, 1966), and at the theater of the old Congress Hall - Hessischer Rundfunk TV broadcasted parts of the performance of the latter (but unfortunately this broadcast doesn´t exist anymore).

At the '10th German Jazz Festival Frankfurt' in May 1966 André met singer ANNIE ROSS and again PONY POINDEXTER (as, ss, voc). A live-album was recorded at this occasion, featuring CARMELL JONES (tp), LEO WRIGHT (as, fl), FRITZ PAUER (p), JIMMY WOODE (b), JOE NAY (dr) and André, released by the Saba label. Two songs of this record have also been released on the Prestige album 'Carmell Jones In Europe 1965-66' - besides the musicians above were: FRANCY BOLAND (p), NATHAN DAVIS (fl, ss, ts), and KENNY CLARKE (dr). Back in Berlin, André performed together with CARMELL JONES, LEO WRIGHT, HELMUT BRANDT (bs), FRITZ PAUER, DIETER GÜTZKOW (b) and JOE NAY under the pseudonym of "THE BERLIN ALL STARS" at the Sportpalast on November 5, 1966, Berlin´s radio station SFB broadcasted the show.
"... I perceived there were too many guitarists. I came back to France while telling me that if that didn't work, I would go back home or I would leave for the United-States...".

In 1967 he played at 'Le Chat Qui Pêche' in Paris with THE LOU BENNETT TRIO featuring: LOU BENNETT (org) and JOE NAY (dr); the bootleg recording of that concert, entitled 'Body And Soul - The Johnny Griffin Quartet', released in 1990 by the Moon label, was falsly ascribed to tenorist JOHNNY GRIFFIN, who coincidentally was in the club and joined the group on stage. In 1967-68 André toured Europe and played concerts at several clubs in Paris with the LOU BENNETT TRIO featuring: LOU (org), JOE NAY / BILLY BROOKS (dr). But during that period André also often returned to Berlin, where he performed at, among others, the Jazzgalerie, again with the LEO WRIGHT QUINTET (with FRITZ PAUER, HANS RETTENBACHER on bass and PETER ECKMANN on drums). He also played with PHIL UPCHURCH (guitarist of GEORGE BENSON), JOE HARRIS, ÅKE PERSSON and NATHAN DAVIS as well (at Dug´s Night Club).

In August 1968 André played on Lou Bennett´s film-soundtrack 'La Vil Seducción' in Spain, with PEER WYBORIS on drums, re-issued in 1997 by Fonomusic.
In 1970 he performed at the Barcelona Jazz Festival with SLIDE HAMPTON and ART TAYLOR; he also played concerts with MEMPHIS SLIM, JOHN LEE HOOKER and ROOSEVELT SYKES. "...I played concerts with SLIDE HAMPTON, JOHN LEE HOOKER, ROOSEVELT SYKES, MEMPHIS SLIM on the electric bass. I have played the stopgap a little, to survive, but that had nothing to do with the music that I wanted to make...".

< previous



2



next >