| | | |
| --- | --- | --- |
| | | |
Alto saxophonist / flutist / clarinetist and outstanding Downbeat award winner Leo Wright is one of the lesser-known voices of jazz, although he certainly gained a high degree of recognition as a sideman, particularly with DIZZY GILLESPIE, JACK McDUFF, OLIVER NELSON, LALO SCHIFRIN, JOHNNY COLES, KENNY BURRELL and at times with the Mingus group. With only rare few albums to his name, Wright was relegated to a secondary tier within the consciousness of jazzdom, and undeservedly so, probably because he worked extensively in Europe.

Leo Nash Wright was born in 1933 in Wichita Falls/Texas. After studying alto-sax with his father and with jazzman John Hardee of Dallas, Wright began a professional career which took him swiftly into stellar company. Among early engagements were spells with bands led by CHARLES MINGUS and DIZZY GILLESPIE (1959-1962). With the latter he appeared at several major international festivals and made records including 'A Musical Safari'. During the early 60ies he worked and recorded with, among others, ANTONIO CARLOS JOBIM, JIMMY WITHERSPOON, DAVE PIKE, BLUE MITCHELL, GILDO MAHONES, JEAN-LUC PONTY, FRANCY BOLAND and ELDEE YOUNG; in New York he was the leader of bop quartets and quintets, his sidemen included JUNIOR MANCE, ART DAVIS, CHARLIE PERSIP, RICHARD WILLIAMS, KENNY BURRELL, SLIDE HAMPTON, CARMELL JONES, LOU BENNETT and RON CARTER. In the middle of the decade he performed in Europe with GEORGE GRUNTZ and LEE KONITZ 's Alto Summit, recording with both. After settling in Berlin in 1964, he appeared at Jazz festivals in Germany, Switzerland and Finland and played with the studio band of Sender Freies Berlin and other groups. He later lived in Vienna and retired from music for a period from 1979. He returned again in 1986, recording an album of duets with his wife ELLY WRIGHT and performing with NAT ADDERLEY, GRACHAN MONCUR III and KENNY DREW in the PARIS REUNION BAND.

In 1990 Leo played his very last concert, together with JIMMY WITHERSPOON. He died on January 4, 1991 in Vienna/Austria. His last recorded notes are on his wife´s LP 'Listen To My Plea'. Although he sometimes plays clarinet and flute it is on alto that he has made his greatest mark, finding a tasteful blend between lush romanticism and earthy blues-influenced drive. A versatile instrumentalist, Wright was strongly influenced as a saxophone player by Johnny Hodges; his timbre on the alto instrument and the bluesy character of his solos show evidence of this. His flute sound, supported by a superb technique, is airy and resonant.
Leo Nash Wright was born December 14, 1933 in Wichita Falls / Texas. His father, a professional alto saxophonist, playing in a Rhythm & Blues Band, taught him how to play the alto when he was still a boy. He naturally considered it his major instrument, although he studied others, including the flute. Leo also studied sax with altoist / tenorist John Hardee of Dallas, who in the '40s had recorded in New York for Blue Note, and started playing in a local highschool-band. Special achievements helped him to get a scholarship for the Tillotson College in Austin/Texas (former Sam Houston College before it became the combined Houston-Tillotson College). Austin had a well-developed jazz scene during that time, trumpeter BOBBY BRADFORD was there, he and Leo played together in the 18-piece college jazz band.
From A fireside chat with Bobby Bradford: "...Leo Wright and I were roommates in college. Leo was very precocious. This guy was smokin', man. As a freshman in college, Leo was killing. The rest of us were scared to death of him. He was so mature at that point as a player. He was clearly a professional already when he got to college.
We were all still trying to get a handle on playing those complicated cord progressions ... After spendinga year and a half in college with Leo, we both left college at the same time...".

When he was drafted into the Army, it seemed that good saxophonists existed there in great number, but as a flutist, he readily found a berth in an Army orchestra overseas. In December 1956 military service took him to Stuttgart and Augsburg (Germany) for 21 months. While serving in the United States Air Force he played with the 7th Army band that included: EDDIE HARRIS, CEDAR WALTON, DON ELLIS, LEX HUMPHRIES, DON MENZA, LANNY MORGAN, HOUSTON PERSON and JOE JONES.
From an EDDIE HARRIS radio-interview in New York, on June 29, 1994: "...Cedar Walton and I were outside of Stuttgart, at Vahingen, and we had a Jazz band out of the orchestra that had formed. It was quite a jazz band. Leo Wright was head of the jazz band, people like Lanny Morgan, Don Menza was in the band...It was a very good band...".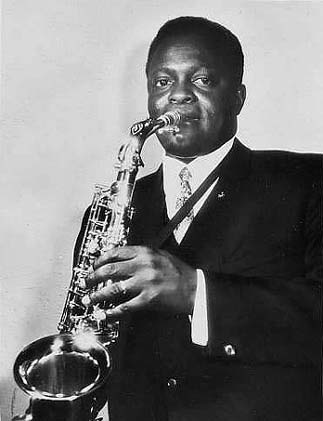 Again, once he became a civilian in 1958, he studied at San Francisco State College for one more semester - only to find that one could not take a music degree majoring in saxophone, but that one could, playing flute. So he studied flute too, but rather unwillingly. Leo, like his idols Bird and Diz, is nevertheless the consummate technician on alto. That he should rank with the very top flute players in jazz, however, strikes him as a bit of an irony, since he feels that he really was 'pushed' into playing the flute, he regarded the sax being 'his' instrument...

It was the time of the Beat movement in the late 50s, when Leo worked at San Francisco's Jazz Cellar, to earn the high college-fees. Authors and poets, like Kenneth Rex or David Meltzer, read poetry while jazzmen played - among them was Pony Poindexter for example, with whom Leo played together again years later.
Leo also worked with GERALD WILSON, SAUNDERS KING and RED PRYSOCK.
In 1959 Leo moved to New York City. It was his flute-playing that brought him an engagement from CHARLES MINGUS, working at the Blue Note and performing at the Newport Jazz Festival in July. The Voice of America Recordings released 'Concerts At Newport 1956, 1959, 1971- Charles Mingus' with three songs of that performance. Among the sidemen were trumpeter RICHARD WILLIAMS and tenorist BOOKER ERVIN. Leo kept on performing at times with the Mingus group during the first years of the Sixties.

Leo´s first big break professionally came, again, because of his known ability on flute. Dizzy Gillespie features the flute in many of his compositions, and so in August of 1959, needing a first-rate man to replace flutist Les Spann, he summoned Leo to take his place. He remained with Dizzy for three years, and has only resigned from the Gillespie Quintet in order to form a group of his own. Fortunately, all this has not obscured the fact that Leo is one of the most talented and imaginative alto men to have come upon the jazz scene in the Sixties.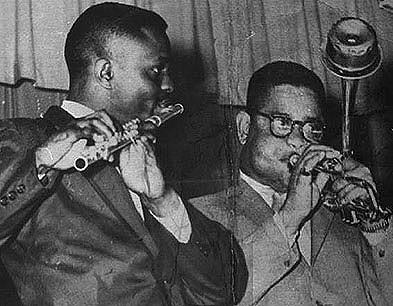 Leo with Dizzy Gillespie
In autumn they went on the first tour in Europe. From a September 17, 1959 concert in Copenhagen, SteepleChase released the LP 'Copenhagen Concert' by Dizzy Gillespie and his Quintet with pianist JUNIOR MANCE, bassist ART DAVIS and drummer TEDDY STEWART.

On May 25, 1960 Wright started recording his debut album 'Blues Shout' for Atlantic, with RICHARD WILLIAMS (tp), HARRY LOOKOFSKY (v), JUNIOR MANCE (p), ART DAVIS (b) and CHARLIE PERSIP (dr) - it was finished August 29th. The album was re-issued in 1999, together with Hank Crawford´s 'The Soul Clinic' on one CD (Atlantic/Collectables Records). Leo married Sigrid Vogt that year and got twin daughters, Susanne and Gisela (exact dates unknown).

In July 1960 the Dizzy Gillespie Quintet performed at the Newport Festival (Omega released 'Live At Newport 1960 - Dizzy Gillespie' and Vanguard Classics released 'Four Jazz Legends Live at Newport 1960' - a compilation with performances of: Cannonball Adderley Quintet, Oscar Peterson Trio, Gerry Mulligan Concert Jazz Band and the Dizzy Gillespie Quintet (JUNIOR MANCE, LEO, ART DAVIS and drummer AL DREARES).

Later this year, on September 27, Leo played on RICHARD WILLIAMS´ album 'New Horn In Town' (Candid), with RICHARD WYANDS (p), REGINALD "REGGIE" WORKMAN (b) and BOBBY THOMAS (dr).

The recording of a Dizzy Gillespie concert at Salle Pleyel in Paris on November 20 of the same year, 'Paris Jazz Concert 1960' (Malaco/ Jazz Classics), consists primarily Schifrin's 'Gillespiana Suite', which had just been recorded in the studio for Verve during the week prior to this performance. Besides Diz and Leo were LALO SCHIFRIN, ART DAVIS, CANDIDO CAMERO (cga) and CHUCK LAMPKIN (perc). The CD re-releases by Trema (1999) and RTE (2001) are entitled: 'Live - Pleyel, 25 Novembre 1960'.

In the next two days, November 21 and 22, 1960, the Dizzy Gillespie Quintet performed at the Konserthuset in Stockholm / Sweden at Jazz At The Philharmonic with: J. J. JOHNSON, STAN GETZ, LALO SCHIFRIN, ART DAVIS, CHUCK LAMPKIN, CANDIDO CAMERO,WILLIE RODRIGUEZ and JACK DEL RIO.
The performances were released, among others, on Verve as 'Jazz At The Philharmonic In Europe Vol. 3 & 4'. Later Verve released the compilation 'Norman Granz Presents Jazz At The Philharmonic In Europe'.

Also in 1960 (exact date unknown) the Dizzy Gillespie Quintet performed in Rome/Italy, with LEO, JUNIOR MANCE on piano, ART DAVIS on bass and TEDDY STEWART on drums. The Moon label released this concert together with another one, recorded 1965 in London with JAMES MOODY on alto and flute, KENNY BARRON on piano, CHRIS WHITE on bass and RUDY COLLINS on drums, on 'No More Blues' in April 1995.

The recording for the compilation 'Reith On!: The Legendary MPS Sessions' (Blue Note; MPS; Cameron Hill) by German organist, pianist and arranger DIETER REITH, also started in 1960. The players were: ACK VAN ROOYEN (tp, fl-h), LEO WRIGHT, GERD DUDEK (fl, sax), JOKI FREUND, BERND FISCHER (saxes), KNUT KIESEWETTER (voc), EBERHARD WEBER, PETER WITTE (b), CHARLY ANTOLINI, KENNY CLARKE, ROLAND WITTICH (dr), KURT BONG (bongos) and HERMANN MUTSCHLER (timbales). HANS GEORG BRUNNER-SCHWER and WILLI FRUTH produced the album.

February 9, 1961 Gillespie´s Quintet performed at the Museum of Modern Art in New York City; Verve only released four songs of the set ('Kush', 'Salt Peanuts', 'The Mooche' and 'A Night In Tunisia') on 'An Electrifying Evening With The Dizzy Gillespie Quintet', the other ones were unissued.

Dizzy´s Big Band played at New York´s Carnegie Hall on March 4, 1961 ('Carnegie Hall Concert' on Verve), besides Leo with: singer JOE CARROLL, trumpeters JOHN FROSK, CLARK TERRY, CARL WARWICK, NICK TRAVIS, trombonists GEORGE MATTHEWS, ARNETT SPARROW, BRITT WOODMAN and PAUL FAULISE; GUNTHER SCHULLER, JIMMY BUFFINGTON, JOHN BARROWS, RICHARD BERG on french-horns, DON BUTTERFIELD on tuba, pianist LALO SCHIFRIN, bassist ART DAVIS, drummer CHUCK LAMPKIN and RAY BARRETTO on congas, JULIO COLAZO, JOSE MANGUAL on percussions.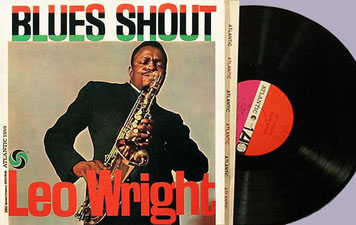 Dizzy´s Sextet (with LALO SCHIFRIN, BOB CUNNINGHAM, CHUCK LAMPKIN, CANDIDO CAMERO and Leo) performed at the Birdland in New York City on May 13, 1961 ('A Night In Birdland Live, Vol.1') and on September 23, 1961 Dizzy´s Quintet (with vocalist JOE CARROLL) appeared at the Monterey Jazz Festival/California ('A Musical Safari' on Booman; 'Oo Pop A Da' on Affinity).

Also in 1961 Leo played on two other albums:
- KENNY BURRELL´s 'Bluesin' Around' for Columbia (with tenorist
ILLINOIS JACQUET, EDDIE BERT on trombone, pianist HANK
JONES, organist JACK McDUFF, MAJOR HOLLEY, GEORGE
DUVIVIER on bass and drummers OSIE JOHNSON, JIMMY
CRAWFORD, LOUIS HAYES and JOE DUKE) and on
- bassist / cellist ELDEE YOUNG´s album 'Eldee Young And Company'
(Cadet) with pianist MAL WALDRON, bassist RICHARD
DAVIS and drummer RED HOLT (Eldee Young and Red Holt used
to be Ramsey Lewis's rhythm section).

The second European tour of Dizzy Gillespie began in November `61; on November 27 they played in Frankfurt; another famous jazzman performed in the city the same evening: John Coltrane, with his Quintet. After the concerts several of the musicians from both groups (Diz, Leo, Elvin, Bob Cunningham and Eric Dolphy) went to Frankfurt´s Jazz Cellar and played there. LaMont Johnson tells a story about that evening.

December 1st they recorded the album 'Dizzy Gillespie Quintet In Europe' (Unique Jazz; Musica Jazz) in Munich/Germany, with LALO SCHIFRIN, bassist BOB CUNNINGHAM and drummer MEL LEWIS. Another of the Quintet´s recordings, 'Blues After Dark' and 'Lorraine' for a TV-film track (location & exact date are unknown), was released by Raretone.
February 21, 1962 Wright recorded 3 tracks ('Statements And Responses', 'Billie Oh My Billie' and 'So In Love') for Atlantic with unknown personnel in NYC (which probably have been unissued?).

Between February and April, Leo played on pianist´s TADD DAMERON´s 'The Magic Touch' (Riverside), the orchestra consisted of: JOE WILDER, CLARK TERRY, ERNIE ROYAL and CHARLIE SHAVERS on trumpets, JIMMY CLEVELAND, HENRY COKER and BRITT WOODMAN on trombones, JULIUS WATKINS on french-horn, JERRY DODGION, JEROME RICHARDSON, JOHNNY GRIFFIN, CECIL PAYNE, JOE ALEXANDER and TATE HOUSTON (reeds), pianist BILL EVANS, bassists GEORGE DUVIVIER, JOHN SIMMONS and RON CARTER, drummers PHILLY JOE JONES and SHADOW WILSON and singer BARBARA WINFIELD.

April 23, Leo recorded his second album 'Suddenly The Blues' (Atlantic) in New York, with: RON CARTER, RUDY COLLINS and his friend KENNY BURRELL. His conscious aim, in both his playing and his writing, is "to express myself with simplicity and directness, minus clutter and pretense. From studying the records of Charlie Parker and from working with Dizzy Gillespie, I have learned that simplicity, clarity and economic organization of musical materials are the marks of really great jazz performance, and not just being able to play very difficult music." For the complete liner notes see discography 1

Dizzy Gillespie recorded another album that year: 'The Big Band' (Verve); (date and location unknown) with JIMMY NOTTINGHAM, ROGER GUERIN, STAN RODERIC (tp), FRANK REHAK, ÅKE PERSSON and JIMMY WALLACE (b-tb), LEO (as, fl), JULIUS WATKINS, JOHN BURDEN, ANDY MC GAVIN (fr-h), BILLY BUTTERFIELD (tu), LALO SCHIFRIN (p), CHRIS WHITE (b), RUDY COLLINS (dr) and PEPITO RIESTRA (cga).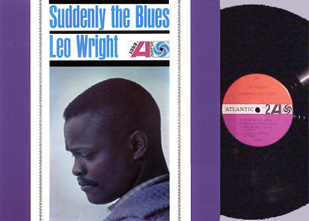 In June Leo recorded with LALO SCHIFRIN 'Bossa Nova, New Brazilian Jazz' (Audio Fidelity), with CHRIS WHITE, RUDY COLLINS, JOSE PAULO, JACK DEL RIO (perc) and 'Lalo = Brilliance' (Roulette) in New York, with JIMMY RANEY (g), ART DAVIS (b), RUDY COLLINS and WILLIE RODRIGUEZ (perc).

Before Leo Wright went on the third European tour with Dizzy Gillespie, they recorded 'New Wave' (Philips) on July 10 in New York City, with CHARLIE VENTURA on baritone and tenor, LALO SCHIFRIN on piano, BOLA SETE and ELEC BACSIK on guitar, CHRIS WHITE on bass, RUDY COLLINS on drums and CARMEN COSTA (cabassa). The tour, starting in July, took them to the 3rd International Jazz Festival D'Antibes, Juan-Les-Pins in France, where 'Vintage Jazz Collection' was recorded on July 22, 'Dizzy At The French Riviera' and 'Live At The Jazz Festival Juan-Les-Pins'on July 24, 1962 (both Philips). The lineup was the same as on 'New Wave', except for PEPITO RIESTRA on percussion. Shortly after the tour Gillespie disbanded his quintet unexpectedly - but Leo didn´t return to the United States.

On September 14, 1962 Wright starts recording his friends´, guitarist KENNY BURRELL, album 'Bluesy Burrell' (Moodsville), with tenorist COLEMAN HAWKINS, TOMMY FLANAGAN and GILDO MAHONES on piano, MAJOR HOLLEY and GEORGE TUCKER on bass, EDDIE LOCKE and JIMMY SMITH on drums, and RAY BARRETTO on congas. The recording continued on August 15, 1963.
October 23, 1962 he played on organist JACK McDUFF´s recording 'Screamin´' (Prestige), previously entitled 'Rock Candy', with KENNY BURRELL on guitar and JOE DUKES on drums, and again with ELDEE YOUNG on his album 'Just For Kicks' (Argo), with the same crew that recorded 'Eldee Young And Company' in 1961.

October 3rd Leo recorded with trumpeter DON GOLDIE on his album 'Trumpet Caliente' (Argo/Cadet) with PATTI BROWN,WILLIE RODRIGUEZ and RAY BARRETTO, arranged by MANNY ALBAM.

In December 1962 Wright played on three more albums:
- on December 8 & 9th on MILTON BANANA´s 'The Rhythm & Sound
Of Bossa Nova' (Ubatuqui/ Audio Fidelity) with pianist OSCAR
CASTRO-NEVES, guitarist HENRY PERCY WILCOX and bassist
IKO CASTRO-NEVES;
- on 12th on DAVE PIKE´s 'Limbo Carnival' (New Jazz), with TOMMY
FLANAGAN on piano, JIMMY RANEY on guitar, GEORGE
DUVIVIER and AHMED ABDUL-MALIK on bass, WILLIAM
CORREA (or CORREO?) on drums and RAY BARRETTO on
congas. Leo is also heard
- on LUIS BONFÁ´s 'The Composer Of Black Orpheus Plays And
Sings Bossa Nova' (recorded on 26 & 31 for Verve), with OSCAR
CASTRO-NEVES (g, org, p), singer MARIA HELENA TOLEDO, IKO
CASTRO-NEVES and ROBERTO PONTES-DIAS (dr, perc)
arranged by LALO SCHIFRIN.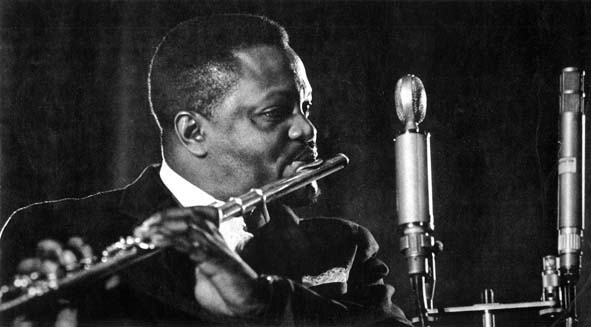 Leo Wright plays on Louis Lot flutes and SML Gold Medal saxophones. (Louis Lot flutes were part of the SML family of instruments.)
On January 12, 1963 Leo performed on the first album of ORCHESTRA U.S.A., entitled 'Orchestra U.S.A. Debut' (Colpix). Among the players of this album, conducted by GUNTHER SCHULLER, were: JOHN LEWIS and NICK TRAVIS on piano, LOUIS MUCCI, HERB POMEROY and NICK TRAVIS on trumpets, MIKE ZWERIN on trombone, WALLY KANE on flute and bassoon, ROBERT DIDOMENICA on flute, ERIC DOLPHY on flute and alto, PHIL WOODS on clarinet and alto, ROBERT NORTHERN and ROBERT SWISSHELM on french-horns, DON STEWART on clarinet and basset-horn, PHILIPP WEST on oboe and english-horn, RAY SHINER on oboe, DON ASHWORTH on oboe and baritone, HARVEY PHILLIPS on tuba, JIM HALL on guitar, ALFRED BREUNING, NATHAN GOLDSTEIN, GERALD BEAL, JULIEN BARBER, AARON JUVELIER and SELWART CLARK on violins and violas, JOSEPH TEKULA and ALLAN GOLDBERG on cellos, RICHARD DAVIS on bass and CONNIE KAY, STICKS EVANS and GARY MC FARLAND on percussions.
The Orchestra was formed in fall of 1962 by pianist JOHN LEWIS, with the assistance of Gunther Schuller and percussionist Harold Farberman. The purpose of this huge orchestra (which included a string section and jazz soloists) was to perform original works that combined advanced jazz with classical music - essentially third-stream works. Its repertoire ranged from pompous to inspiring, with material contributed by Lewis, Schuller, Gary McFarland, Benny Golson, Jimmy Giuffre,
Hall Overton, Teo Macero and others. Among the musicians who performed with Orchestra U.S.A. were Gerry Mulligan and Ornette Coleman. The venture lasted three years, until 1965. Orchestra U.S.A. recorded obscure albums for Colpix (1963) and Columbia (two in 1964) which, besides Leo, included players such as Herb Pomeroy, Nick Travis, Phil Woods, John Lewis, Jim Hall, Richard Davis, Connie Kay, Eric Dolphy, Coleman Hawkins, Benny Golson, Thad Jones, Joe Newman and Jerome Richardson. In addition, the Sextet of Orchestra USA made an album for RCA in 1964.

In February Leo played on BOB BROOKMEYER & LALO SCHIFRIN´s 'Samba Para Dos' (Verve) in New York City, with BOB BROOKMEYER on piano and valve-trombone, FRANK REHAK on trombone, PHIL WOODS on alto, JEROME RICHARDSON, ZOOT SIMS and AL COHN on tenor, ROMEO PENQUE (reeds), DANNY BANK on baritone, JIMMY RANEY on guitar, CARMELITA KOEHLER (cello), BEN TUCKER on bass, DAVE BAILEY on drums and JOSE PAULO on percussion.

In April (or May ?) Leo recorded with organist / singer GLORIA COLEMAN on her album 'Soul Sisters' (Impulse) in New Jersey, with guitarist GRANT GREEN and POLA ROBERTS on drums. The album was also released as 'Gloria Coleman' on Imperial.
| | | |
| --- | --- | --- |
| | | Leo Wright with Tom Jobim recording "Favela" in 1963 |
May 2, 1963 Leo started recording with pianist/arranger/ conductor DUKE PEARSON in New York City. Five tracks, (Say You're Mine, Ode To A Blossom, Los Malos Hombres, When You Find Your Lover, Richard's Tune), recorded for Atlantic with RICHARD WILLIAMS (tp), BEN TUCKER (b) and STU MARTIN (dr), have been un-issued. Other tracks, recorded in July and August (see below), were released on ANTONIO DIAZ MENA´s 'Eso Es Latin Jazz, Man' (Audio Fidelity) and on JOHNNY COLES´ 'Little Johnny C' (Blue Note).

Four days later, on May 6, he performed on the first recording session for singer / guitarist JIMMY WITHERSPOON´s album 'Baby, Baby, Baby' (Prestige) in New York City (the second session was in July in Los Angeles), with KENNY BURRELL and HERMAN MITCHELL (g), ARTHUR WRIGHT (hca), JIMMY ALLEN (ts), BOBBY BRYANT (tp), GILDO MAHONES and ERNIE FREEMAN (p), GEORGE TUCKER and JIMMY BOND (b), JIMMIE SMITH and JIMMY MILLER (dr). The album was reissued as 'Mean Old Frisco' in 1970.

Together with ANTONIO CARLOS JOBIM, Wright recorded his first American album 'The Composer Of Desafinado Plays' (Verve) on May 9 & 10th.
with an orchestra, and trombonist JIMMY CLEVELAND, GEORGE DUVIVIER on bass, BOB BELDON (interviewer) and CLAUS OGERMAN, who conducted and arranged.

October 23, 1962 Leo played on organist JACK MC DUFF´s 'Brother Jack Mc Duff Plays For Beautiful People' (Prestige), together with: JIMMY FORREST on tenor-sax, guitarists KENNY BURRELL, GRANT GREEN, and BILL JENNINGS, LEM WINCHESTER on vibraphone, bassist WENDEL MARSHALL, drummers BEN DIXON, ALVIN JOHNSON, BILL ELLIOTT and JOE DUKES, and RAY BARRETTO on congas.

Leo played on Antonio Diaz Mena´s 'Eso Es Latin Jazz ... Man !' (Audio Fidelity), which was recorded in July 1963 in New York City; the players were: ANTONIO "CHOCOLATÉ" DIAZ MENA on congas, CLARK TERRY on trumpet, JIMMY CLEVELAND on trombone, SELDON POWELL on tenor and flute, JEROME RICHARDSON on baritone-sax and flute, FELIPE YANEZ on piano, FRANK SCHIFANO on bass, RUDY COLLINS on drums, and VICTOR ALENDE and MEGUIL AVILA on percussion. The record was arranged and conducted by DUKE PEARSON.

Leo was a member of the SFB-Big Band for several years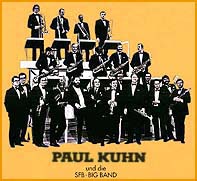 for more about the band, click on the image