| | | |
| --- | --- | --- |
| | HISTORY | |
| | | |
This outstanding band was heard on SFB (Sender Freies Berlin = Radio Free Berlin) from the mid-60ies. The band played under the direction of pianist and arranger Paul Kuhn from 1968 until its disbandment in 1980.
Many famous players worked with the band, including: Slide Hampton, Bob Burgess, Torolf Mølgaard, Herb Geller, Rolf Ericson, Carmell Jones, Benny Bailey, Åke Persson, Al Porcino, Ron Simmonds, Milo Pavlovic, Heinz von Hermann, Leo Wright, Eugen Cicero, Ack van Rooyen, Jerry van Rooyen, Joe Harris and Ronnie Stephenson.
The band performed with many stars, like Shirley Bassey, Oscar Peterson, Gilbert Bécaud, Jerry Lewis, to name just a few.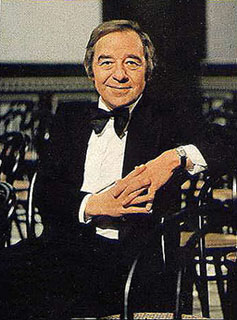 Paul Kuhn
The members in the photograph, taken in 1972, are, from left to right, starting at the top:
Charles Orieux, Åke Persson, Slide Hampton, Manfred Grossman, trombones; Lothar Noack,
Siegfried Fröhlich, Leo Wright, Rolf Römer, Heinz von Hermann, saxes; Eugen Cicero, piano;
Tom Holme, bass; Horst Larisch, trumpet; Robert de Reijke (hiding behind Horst) keyboards;
Carmell Jones, Milo Pavlovic, trumpets; Paul Kuhn, leader, piano, arranger; Ossie Dudek, trumpet;
Dai Bowen, drums; Ron Simmonds, trumpet; Adrian Cicero, vibes, percussion; Kurt Weil, percussion;
Bobby Dorr, fender bass; Siegfried Strauss, guitar.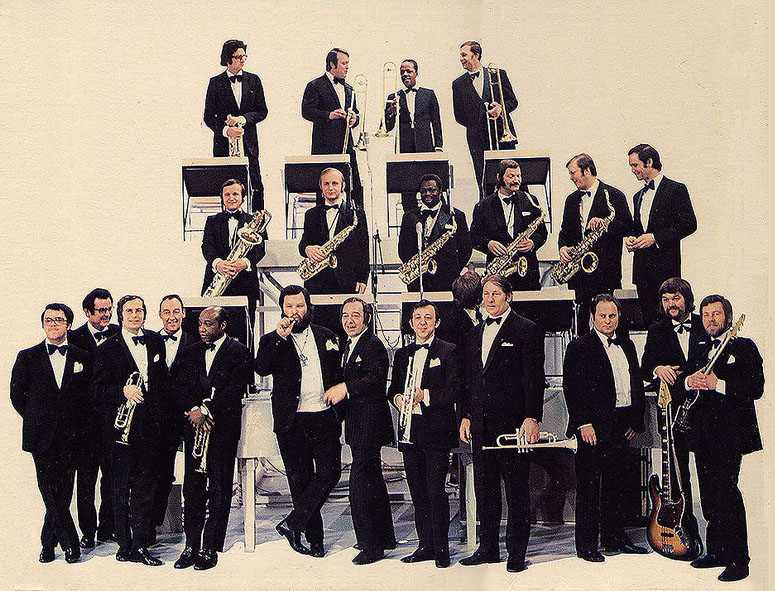 Among the players were:



BENNY BAILEY (tp)
born August 13, 1925 in Cleveland/Ohio. Joined the DIZZY GILLESPIE Big Band in 1947. Prior to that, Benny worked with the JAY McSHANN ORCHESTRA 1946-47. He was also one of the principal soloists with the LIONEL HAMPTON ORCHESTRA 1948-53. In 1955, he moved to Stockholm for four years, working with HARRY ARNOLD'S BIG BAND (1957-59) and recording with STAN GETZ, before touring with QUINCY JONES (1959). In 1961 he recorded with ERIC DOLPHY and became part of the BERLIN RADIO ORCHESTRA, until 1963 when he moved to Munich, and the MAX GREGER ORCHESTRA/BIG BAND between 1963-1968. In 1969, after a brief fling at freelancing, Benny moved on to Switzerland to take a job as a lead trumpeter in the RADIO SWISS ROMANDE ORCHESTRA which is based in Geneva. Since 1962, Benny has also been a permanent feature in the great KENNY CLARKE/FRANCY BOLAND BIG BAND. He toured with GEORGE GRUNTZ's concert Jazz band, and in 1986 became a member of the PARIS REUNON BAND. In addition to the Candid date, Bailey has led sessions for many European labels, including Sonet, Metronome, Saba, Freedom, Enja, Ego, Hot House and Gemini, plus an American set in 1978 for Jazzcraft. But it is his explosive solos on 'Cold Duck Time' and 'Compared To What' from the Harris/McCann concert (now also available on video) that made him most famous. Now Benny is working and living in Amsterdam.


ROLF ERICSON (tp)
When jazzlegend Rolf Ericson passed away in the summer of '97 he was surely missed. I Love You So... came to be the Swedish trumpetplayers last recording. In his lifetime during a career that spanned five decades he played with all the great jazz musicians on both sides of the Atlantic. He was the first European to hold a steady job in DUKE ELLINGTONs band. He accompanied CHARLIE PARKER on his Swedish tour, he was in HOWARD RUMSEY's Lighthouse All Stars with MILES DAVIS and CHET BAKER, he played with COUNT BASIE, the DORSEY BROTHERS, CHARLIE BARNET, WOODY HERMAN and DEXTER GORDON to name a few.



HERB GELLER (as, ss, fl, voc)
was born in Los Angeles on November 2, 1928. His first professional job was at an L.A. club called Mike Riley's Mad House in 1945. Thereafter he became part of veteran jazz fiddler JOE VENUTI's band before finding himself in New York with the CLAUDE THORNHILL BAND at a time when there was still an active jazz performing and recording scene. Here he met and married jazz pianist Lorraine Walsh. Then it was back west to be part of the expanding "west coast jazz" school in and around Los Angeles composed of SHORTY ROGERS, ART PEPPER, CHET BAKER, and SHELLEY MANNE. Geller also played in an early edition of MAYNARD FERGUSON's ORCHESTRA. He and his wife Lorraine co-led a successful quartet until her tragic early death in 1958. This was a personal watershed and he left for a period of revaluation in Brazil before finally setting sail for Europe. In 1962 he worked for the BERLIN RADIO ORCHESTRA before securing a permanent post with the NDR ORCHESTRA in Hamburg where he remained for over twenty five years. Financially this was good but the confines of a radio orchestra do not always allow freedom of expression. He had meantime remarried and settled in Hamburg. In 1990 he made his first jazz combo album since leaving the United States. He retired from the NDR Orchestra in 1993 an was free to undertake tours back in the US, Europe and the UK. In recent times he has recorded with some younger musicians in his adopted city Hamburg (I'll Be Back CD 2074) and also in the US he has recorded for VSOP, Fresh Sound, and "The Al Cohn Songbook" (HEP CD 2066). During a short tour of the U.K. in 1998 he encountered the fabulous Scotish pianist BRIAN KELLOCK and the following year in London recorded an album with Kellock entitled "The Hollywood Portraits" (HEP CD 2078). This was a suite of original music celebrating some of Hollywood's legends such as Marilyn Monroe, Judy Garland, Lana Turner, Ingrid Bergman and Greta Garbo. As always Herb's playing combines the essence of Benny Carter's singing alto style plus the exciting departures originated by Charlie Parker. Herb is truly the last in the great tradition of jazz alto players who can also compose and whose knowledge of the structure of standards is second to none. There is more to come.
Among the sidemen were:



trumpets:

CARMELL JONES, HORST LARISCH, OSSIE DUDEK, AL PORCINO,

MILO PAVLOVIC,

RON SIMMONDS
He played in many of the great British, German and American jazz orchestras. For ten years he was Chief Editor (North America and the Far East) for the Deutsche Welle Cologne and Studio Berlin.


flugel-horn: ACK VAN ROOYEN


trumbones: TOROLF MØLGAARD, ANDRÉ PACQUINET, GEORG RAK, CHARLES ORIEUX, BOB BURGESS, MANFRED GROSSMAN,

SLIDE HAMPTON
started his musical career with BUDDY JOHNSON in 1955-'56, and in the bands of DIZZY GILLESPIE, ART BLAKEY, MAX ROACH, THAD JONES and MEL LEWIS. He then worked with IONEL HAMPTON's band in 1956-'57, played and arranged for the MAYNARD FERGUSON BAND from 1957-59 and led his own octet from 1959 through 1962, with sidemen such as GEORGE COLEMAN, FREDDIE HUBBARD and BOOKER LITTLE. In 1962 he founded the renowned Slide Hampton Octet, featuring Freddie Hubbard, Booker Little and George Coleman. Since then he has shared the stage with DEXTER GORDON, ART FARMER, JIMMY WOODE and numerous other jazz greats. Following a stint as the musical director for singer LLOYD PRICE and some freelance arranging, Hampton joined WOODY HERMAN and toured Europe with the Herman big band in 1968. Probably around 1969 he joined the SFB-Big Band, which he left by 1973. Settling in Europe, the trombonist played in various all-star groups and arranged music for radio studio orchestras before returning to New York City in 1977, where he has become involved in education, plays in the CARNEGIE HALL JAZZ BAND, leads his World of Trombones, combos and a big band.




ÅKE PERSSON

(1932-1975)
played during his prime years with many outstanding ensembles in his native country Sweden and occasionally guested with American jazzmen who were on tour, like GEORGE WALLINGTON and ROY HARRIS. Among Persson's associations through the years were SIMON BREHM (1951-54), ARNE DOMNERUS, HACKE BJORKSTEN, HARRY ARNOLD's RADIO BAND (1956-61), QUINCY JONES' BIG BAND (playing for the ill-fated Free and Easy show), LARS GULLEN, the band of RIAS Berlin (1961-75) and the KENNY CLARKE/FRANY BOLAND ORCHESTRA (1963-71). Additionally, Persson had opportunities to play with ROY HAYNES, BENNY BAILEY, COUNT BASIE (1962), DUKE ELLINGTON and DIZZY GILLESPIE, among many others. Persson, considered one of the top European bop trombonists of the 1950s and '60s, led four numbers apiece during sessions for Metronome in 1953, Philips in 1957, EmArcy from 1956-57 and Metronome again in 1959 - 16 selections in all. He died a voluntary death at the age of 43 in Stockholm.


saxes: LEO WRIGHT (as), SIEGFRIED FRÖHLICH (as), LOTHAR NOACK (bar-s),

JAN KONÒPACEK (bar-s)
b.1931 in Prague/Ex-Czechoslovakia


ROLF RÖMER (ts)
was born in Wiesbaden and went to the State College of Music in Frankfurt am Main. After his studies, Römer got his first professional musical experiences in American clubs in Spain, Italy, North Africa and France. From 1965 to 1969, he was an active participant in the Paris jazz and studio music scenes. At the end of 1969, he was invited to join the SFB BIG BAND in Berlin. With the SFB band, he played countless tours (Europe, Africa, USA), television shows, and festivals with artists such as: OLIVER NELSON, NANCY WILSON, STAN KENTON, HENRY MANCINI, RAY CHARLES and GIL EVANS. In 1981, he joined the WDR BIG BAND Cologne. In 1994 through 1995, he studied composition with BOB BROOKMEYER. In addition to the WDR Big Band Cologne, he presents his own quartet and quintet in concerts, clubs and festivals. His current CDs are "Tesoro" (Jazz 4Ever) and "A Tribute to Bach" (Edition Collage). He also plays alto- & soprano sax, flute and clarinet.


HEINZ VON HERMANN (ts)
Paul Kuhn got him to Berlin in 1971 to join the SFB-Big Band. In between there were small tours with MAYNARD FERGUSON and with LIONEL HAMPTON. He also plays soprano- & baritone sax and flute. Heinz von Hermann had a quintet in Berlin together with CARMELL JONES, various small groups with LEO WRIGHT and ÅKE PERSSON; he also played with SLIDE HAMPTONs superband.

piano:
EUGEN CICERO
born in 1940 in Klausenburg/Romania, he studied piano at the National Conservatory in Bucharest. At the age of 18 he formed a quintet, with which he toured Austria and Switzerland, and in 1969 he traveled to South Africa as the leader of a trio with CHARLY ANTOLONI and HANS RETTENBACHER. In the 1970s he worked as studio musician for radio stations in Germany and toured successfully in Japan. Cicero's recordings as an unaccompanied soloist and a leader include his improvisations on themes by classical composers (1965-7, 1970, 1983); examples of these and his own jazz compositions may be heard on My Lyrics; Eugen Cicero in Tokyo (1977, Denon YX7510ND). He has also recorded as the leader with TOOTS THIELEMANS of a quintet and as a sideman with Leo Wright (1972).

WALTER NORRIS
was born December 27, 1931 in Little Rock/Arkansas. Classical piano studies with John H. Summers from age four and a half until eighteen. Working professionally (1944-50) with HOWARD WILLIAM's 19 piece band in Little Rock; also in '49 with BITSY MULLIN's tentet. After graduating from High School, June `50, he joined MOSE ALLISON's QUARTET but left in August `50 to serve with the US Air Force in Japan and Korea. Returning from Asia, summer of `52, he was engaged for six months with JIMMY FORD's QUARTET in Houston, Texas. In `53, he formed a trio for his nine month stay at the El Morocco in Las Vegas before moving on to Los Angeles where he worked in the quartets of STAN GETZ, DEXTER GORDON, JOHNNY GRIFFIN, TEDDY EDWARDS, ZOOT SIMS, HOWARD McGHEE, BUDDY DeFRANCO, HERB GELLER, CHARLIE VENTURA; plus the quintets of FRANK ROSOLINO-CHARLIE MARIANO, ORNETTE COLEMAN-DON CHERRY and SHORTY RODGERS-BILL HOLMAN all during the period between `54 and `60. Next, he went to New York spending `60-`62 at the Embers and Roundtable as intermission pianist. He also joined, in '61, bassist HAL GAYLOR and guitarist BILLY BEAN to record 'The Trio' for Riverside Records before accepting employment as pianist and eventually musical director of the New York Playboy Club from `63 until `70. During this time, he attended Manhattan School Of Music where he studied, as piano major, five and a half years with Heida Hermanns and continued further studies, privately, with pianist, Linda Kessler-Ferri of New York City. After four years of freelancing and teaching, he joined the THAD JONES-MEL LEWIS JAZZ ORCHESTRA which toured throughout the United States, three times in Europe, Scandinavia twice and once in Japan. He left the Jones-Lewis Orchestra in Munich, January `76, for seven months in Scandinavia playing solo, duo with RED MITCHELL, in quartet with DEXTER GORDON and quintet with RED RODNEY-ZOOT SIMS before returning to New York City, September `76, to become a member of CHARLES MINGUS` QUINTET. In January `77, he signed a five year contract with the Sender Freies Berlin Radio Orchestra establishing residence in Berlin, Germany. He joined the faculty of Hochschule der Künste as guest-professor for piano improvisation in April `84 and continued through February `94. Also throughout this period, he performed concerts each year in New York and California where in `90 he accepted a five-year recording contract with Concord Jazz, Inc. He toured Japan in `94 with the Fujitsu-Concord Jazz Summit Festival. In addition to becoming a Steinway Artist in `95, he was selected for Arkansas Hall Of Fame by the Jazz Heritage Foundation. In August `98, he formed Sunburst Recordings, Inc.

keyboards:

ROBERT DE REIJKE


guitars:

INGO CRAMER, SIEGFRIED STRAUSS


bass:

HANS RETTENBACHER, BOBBY DORR, TOM HOLME


drums:

JOE HARRIS, DAI BOWEN,



RONNIE STEPHENSON
was born in Sunderland in the United Kingdom. He was the house drummer at Ronnie Scotts in London for a few years and has played with numerous bands. Ronnies main style of music is jazz (big band).

vibes, percussion:

ADRIAN CICERO


percussion:

KURT WEIL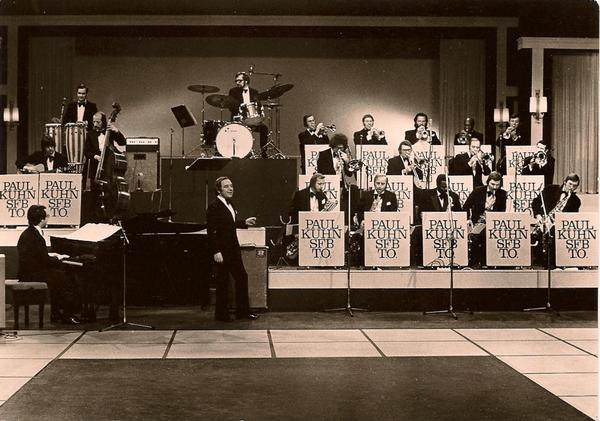 The SFB Bigband in 1965 with Paul Kuhn at the front (photo from Larry Brown's website
at www.myspace.com/bluebrownmusic)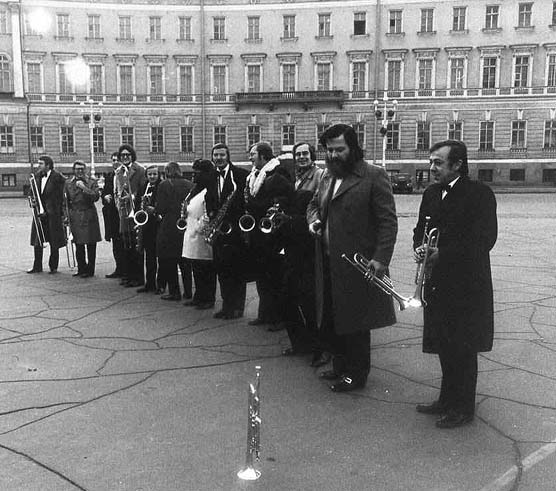 The SFB Band in Leningrad
taken at Leningrad's Vosstaniya Square on an October morning around 1971.
left to right: Åke Persson, André Pacquinet, Manfred Grossman, Charles Orieux, Lothar Noack,
Siggy Froehlich, Leo Wright (in white coat), Rolf Römer, Heinz von Hermann, Horst Larisch,
Carmell Jones (bending with trumpet), Milo Pavlovic, Ossie Dudek.

taken from The Jazz Professional websites, which were produced by Ron Simmonds.
sfb page >
2
(discography)
back to:
leo wright discography > 1 2 3 4 5 6 7 8
carmell jones discography >
1
2
3
4
5
6