BIOGRAPHY

PART 2

1

2

biography I discography

1 2 3
In the following years, and especially after the closing of the 'Blue Note' in 1968, Lou gave an impressive number of concerts in Germany, Sweden, Czechoslovakia, and Spain, etc., where his name was on posters of the largest jazz clubs as well as the smallest. His humanity rather often made him forget protecting his financial interests immediately, for sometimes allowing a friend to making his club survive first. Thereafter, particularly during the closing of the 'Jamboree', Lou established in Madrid, where he works in the largest clubs of the city, in the same way. It should be noted that the Jamboree club in Barcelona was going to reopen thereafter, under the direction of Juan Mas. (Juan Farmhouse and his sister Anna, owner of the jazz club 'Le Bôite', also in Barcelona, became personal friends of Lou´s.)
Lou played on KING CURTIS´ album 'Soul Groove', which was recorded between 1970-79 and issued by MSI.



During the 80´s Lou Bennett led his own quintet, among it´s members was GERARD BADINI.

In February 1983Lou played on Eddie Lockjaw Davis´ album 'That's All' (Jazz Club/EMI), recorded in Paris by EDDIE "LOCKJAW" DAVIS (reeds), TEDDY MARTIN on violin and GEORGE COLLIER on drums.

Probably in the 80ies (exact date unknown) Lou Bennett composed the soundtrack for the Spanish movie 'El Momento De La Verdad' (The Moment Of Truth), directed by Francesco Rosi.

On January 13, 1984 Lou recorded 'Blue Lou´s Blues (Swing Land / Vol. 13)' in Paris, issued by Swing and later by Jazzophile/Jazz- trade, with: FLAVIO IBBA on guitar and AL LEVITT on drums.

The Lou Bennett Quartet in 1989, from left:
Abdu Salim, Ximo Tébar, Billy Brooks & Lou Bennett.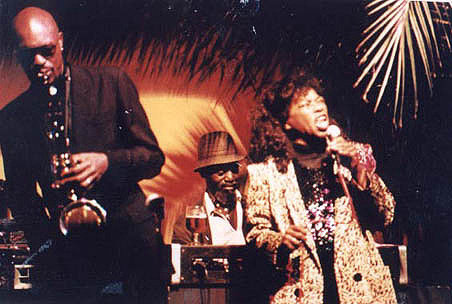 Abdu Salim, Lou Bennett & Loti Lewis. Poble Espanyol.
Tauro Records released 'Anthologies Generales: 50 Years Of Belgian Jazz 1938-1987', exact date unknown. Among the players are: THE JACK SELS QUARTET (JACK SELS, ts, LOU BENNETT, PHILIP CATHERINE, g, and OLIVER JACKSON, dr), FRANCY BOLAND & his orchestra, THE BOBBY JASPAR QUINTET, THE TOOTS THIELEMANS QUARTET, STAN BRENDERS and FUD CANDRIX with their orchestras and others.

Lou recorded his album 'Now Hear My Meaning' on June 9 & 10, 1992 live in La Boîte, with ABDU SALIM on saxophone, XIMO TÉBAR on guitar and IDRIS MUHAMMAD on drums. It was issued in 1993 by Spanish label Mas I Mas.

In 1992 WEA issued the record 'Hello Mr. Bennett - The Jazz Guitar Trio Vol. 1 - Ximo Tébar With Lou Bennett & Idris Muhammad', recorded live at Café Populart in Madrid with XIMO TÉBAR on guitar (who also produced), and IDRIS MUHAMMAD on drums.

Since 1994, Lou´s health worsened, but that didn´t keep him off continuing to perform. Being a victim of respiration difficulties, he even had envisaged the danger to move with his oxygen apparats !
Lou is also heard on Ximo Tébar´s album 'Son Mediterraneo', issued in 1995 by WEA. Among the musicians were: XIMO TÉBAR, RAMÓN CARDO on tenor, JORGE PARDO (fl, ss), RICARDO BELDA (p, teclados), SOLE GIMENEZ, JOAN AMERIC (voc), RICARDO ESTEVE (flamenco-g, palmas), JUAN "PETI" CASTRO (cante, palmas), LUCHO AGUILAR (b, el-b), LUIS LLARIO (b), FELIPE CUCCIARDI (dr), PACO BERNAL, ADOLFO CRESPO, VICENT CORTINA (perc), RUBEM DANTAS (tinaja, cga, dir. perc) and NACHO MAÑÓ (teclados, efectos).

In 1996 the original movie soundtrack composed by Lou, 'Nadie Como Tu' (Nobody Eats You) was released. Lou also played the leading role, he interprets the story of a great American Jazz musician who comes to Spain to perform.
After his last concert on January 4, 1997, Lou immediately returned to the hospital of Chesnay, outside of Paris, where he was in treatment, and where he will pass away on February 10th. He had suff ered from emphysema. Rhoda Scott and Stéfan Patry were among those who performed at his funeral. A large musician left us, but also a man, generous and simple, handling humour with the same dexterity as he was handling his keyboards...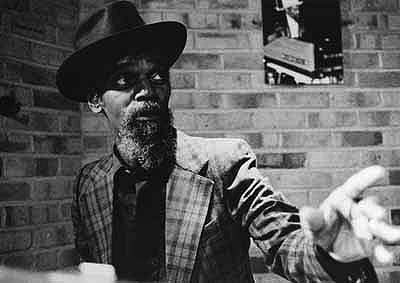 TWO ARTICLES
It seems to me that whenever there are two or more extraordinarily creative people on the scene at the same time, 'somethin's gotta give'. The old Western adage: "This town ain't big enough for the both of us" can be interpreted in several ways and might even apply to two musicians who feel the edge of each other's creative forces. When Jimmy Smith came on the scene in 1954 with his revolutionary jazz organ sound, he wasn't completely alone. Just as Sonny Stitt poised himself for Charlie Parker to extend his wings and fly, so too did a fellow named Lou Bennett balance his creative forces as Jimmy Smith laid down the new doctrine for Jazz Organ. What resulted was not only a geographical separation between them but two distinct contributions for the rest of the world to marvel ... While Jimmy Smith was leading the pack of Jazz Organists in the States and showed us a new soloing technique with his right hand, Lou was taking historic measures to ensure this genre of music developed on the European continent and showed us the amazing soloing potential of the left foot.

American jazz expatriots have often justified their presence in Europe by claiming the acceptance of their music and their humanity was stronger there. Offers made to American musiciansto play in Europe and share the uniqueness of their music were sometimes irresistable. Such was the case with Lou Bennett whose decision to cross the Atlantic for more receptive audiences turned out to be the right move at the right time.
Parallels between Lou Bennett and Jimmy Smith can be short but are, nevertheless, important. Both musicians were born in or around the Philadelphia area, which seems to have been the 'Jazz organ
capital of the world' for the most part, within a year or two of one another.
Lou actually was born on May 18, 1926 while Jimmy likes to tell people he was born in 1928 (December 8); the books suggest 1925. The point is that they have been contemporaries and both were initially inspired by the Godfather of the Jazz Organ Combo: Bill Davis. Later known as "Wild" Bill Davis, this man truly led his disciples (Bill Doggett, Jackie Davis, Milt Buckner, Sarah McLawler, etc.) through the late 40´s and into the mid 50´s before Jimmy Smith took hold of the genre and redefined the sound.

Jimmy's concept of playing horn lines on the organ, rather than using the full organ sound to emulate sections of a big band, quickly became the model for right hand soloing while Lou helped to develop the concept of soloing with the foot pedals (may have come more from Jackie Davis' style of "all-foot" bass accompaniment) which, heretofore, were used primarily for accompaniment. Although his strongest footpedal work came later in his career, he contributed significantly something new and uniquely different to the Jazz Organ vocabulary of the day.

The other, and most important, feature of Lou's career to date, is that he became the ambassador for Jazz Organ on the European continent ... the bridge to Europe for this new and exciting jazz instrumentation. As an expatriot musician, joining contemporaries like Kenny Clarke and Johnny Griffin to name a few, Lou was able to establish himself in Europe as a new leader in much the same way Jimmy Smith had done in America.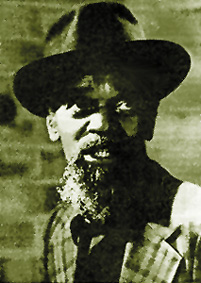 Lou Bennett settled first in France and proceeded to establish his new career as Europe's leading jazz organist. He returned to the United States in 1964 for an appearance at the Newport Jazz Festival and by this time, had made other recordings which furthered his popularity (Note: two great tracks with Kenny Clarke show up on an Impulse record called Americans in Europe, 1963. Others included Enfin in 1962, Meeting Mr. Thomas in 1963 and Pentacostal Feeling in 1964). In at least one early poll (The Jazz Magazine Referendum) Lou would top the seemingly untopable Jimmy Smith; someone even sug- gested he be known forever more as "The Pope of the Organ". Lou had firmly rooted the American Jazz Organ sound in European soil.

Lou Bennett played in Europe's biggest Jazz festivals. He appeared on television and played on radio programs, spreading his Jazz organ groove all throughout Europe with an Eastern European tour taking place in the Fall of 1966. Lou has given numerous European Jazz artists the opportunity to play in the context of the Jazz Organ combo, which, before his arrival, was an American experience for the most part. Guitarist René Thomas joined Lou often as did Philippe Catherine later on.

In 1970, Lou moved to Spain and five years later opened a club on the Costa Daroda in Spain. It was at this point that he designed and constructed a modified Hammond organ that allowed him increased flexibility for his footwork. He called his "new" organ, the 'Bennett Machine'. He continues to play concerts in Spain, France and throughout Europe but does not limit his activities to performance.
The composition of music for film has also played an important role in his career. He has written music for the films: 'El Momento de la Verdad' which was directed by Francesco Rosi and 'La Vile Seduction', directed by José Vargas and 'Le Glaive Et La Balance' directed by André Caillatte. More recently, Lou composed the music and played the first role in a new film called "Nadie como tu" (1996) where he interprets the story of a great American jazz musician who comes to Spain to perform. His most recent CD features Abdu Salim on saxophone, Ximo Tébar on guitar and Idris Muhammad on drums. It's a live recording entitled, 'Now Hear My Meaning' (Mas y Mas Records). Earlier recordings to look out for include: 'Meeting' on RCA, 'Jazz on Epic' on Philips, 'Echos et Rhythmes de Mon Eglise' on Barclay and 'Live at Club St-Germain' on Vogue.

Whether you buy my premise that Lou left the United States to distance himself from Jimmy Smith or not is irrelevant... it's just a thought. The fact of the matter is that Lou's new found musical freedom in a receptive European environment, some thirty-seven years ago, liberated him musically and allowed him his opportunity to reach a creative level that few other jazz organists were afforded. Lou Bennett gave it his own twist and attached a stylistic approach to foot pedal soloing that truly enhanced the Jazz Organ Experience.


© Pete Fallico - January 1997
Note: I'd like to thank Rhoda Scott for translating some biographical material for me and helping me learn more about Lou Bennett.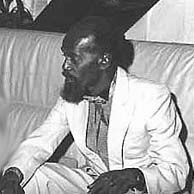 OBITUARY


...So that one never forgets you, friend!...Born in Philadelphia May 18, 1926, and Martinican of birth, he was raised by his grandfather, Baptist pastor in Maryland, and his grandmother who tought him to accompany the songs of church at the harmonium. He learned the profession of a shoemaker. In 1951, he became professional and toured the United States with his trio before being hired in Paris at the famous "Blue Note" in 1960, where he played, as well as in whole Europe, with Kenny Clarke and Jimmy Gourley. Passionate with electronics, he even constructs his organ, called the 'Bennett machine', which permits him to multiply the voices of the instrument, while avoiding to carry the 120 kilograms of his B3. He will also cross the road of René Thomas, with whom he will record Rally Mr. Thomas, as well as with other musicians of prestige, such as Philippe Catherine.



(Excerpt of the "Dictionary of the Jazz" at R. Laffont)



Lou BENNETT seen by Eddy DELHAYE:
Lou was first a 'pure': he knew how to give the deepest of himself, and made confidence easily... With keyboards Lou never searched for the easy effects (glissades/ percussions /...) but the finest harmonies, accompanied by a bassline at the feet, unique to the world: "with the pedals, no one was fit to hold a candle to him". His style was very stripped, with a violent swing, served by stupendous dexterity on the pedals. His character was fascinating, intelligent, of an astonishing humility for someone of his talent and his reputation. The show business never succeeded in damaging his personality...

Lou left February 10, 1997, day of Sabine's birthday, my wife: I hear it there high to tell me: "Absent-minded as you are, at least, it is one date that you will keep...
At the church St. Germain of Parly2, all his friends were there: Rhoda Scott, Philippe Catherine, Patrice Galas, Liz Mc Comb, Al Singer, Johnny Griffin, Jimmy Gourley, for a last "Beef ", Lou was there, to the middle, his legendary hat decorating his coffin. But especially there was Sonia, his faithful wife, full of pain... Lou held the whole place, Sonia lived in his shade: the abyss is only deeper of it ...

ARTICLE NÉCROLOGIQUE


...Pour que l'on ne t'oublie jamais, ami !...Né à Philadelphie le 18 Mai 1926, et Martiniquais de naissance, il est élevé par son grand père, pasteur Baptiste dans le Maryland, et sa grand mère qui lui apprend à accompagner à l'harmonium, les chants d'Eglise. Il apprend le métier de cordonnier. En 1951, il devient professionnel, et parcourt les Etats Unis avec son trio avant d'être engagé à Paris par le célèbre "Blue Note" en 1960, où il jouera ainsi que dans l'Europe entière avec Kenny Clarke et Jimmy Gourley. Passionné d'électronique, il construit lui même son orgue qu'il appelera la "Bennett machine", et qui lui permet de multiplier les voix de l'instrument, tout en évitant de devoir porter les 120 kilos de son B3. Il croisera également la route de René Thomas (avec qui il enregistrera Meeting Mr Thomas, ainsi que d'autres musi- ciens de prestige, tels Philippe Catherine.



(Extrait du "Dictionnaire du Jazz" chez R.Laffont)



Lou BENNETT vu par Eddy DELHAYE:
Lou était d'abord un "pur": il savait donner le plus profond de lui-même, et faisait facilement confiance... Aux claviers, Lou ne recherchait jamais les effets faciles (glissades/ percussions/...) mais les harmonies les plus fines, accompagnées par une ligne de basses au pied, unique au monde: "au pédalier, personne ne lui venait à la cheville". Son style était très dépouillé, son swing violent, servi par sa dextérité prodigieuse au pédalier. Le personnage était fascinant, intelligent, d'une étonnante humilité pour quelqu'un de son talent et de sa renommée. Le showbusiness n'a jamais réussi à abimer sa personnalité...

Lou s'en est allé le 10 Février 1997, jour de l'anniversaire de Sabine, mon épouse: je l'entends là haut me dire: "Distrait comme tu es, au moins, c'est une date que tu retiendras..." A l'Eglise St.Germain de Parly2, tous ses amis étaient là: Rhoda Scott, Philippe Catherine, Patrice Galas, Liz Mc Comb, Al Singer, Johnny Griffin, Jimmy Gourley, pour un dernier "Boeuf", Lou était là, au milieu, son chapeau légendaire ornant son cercueil. Mais surtout, il y avait Sonia, sa fidèle épouse, écartelée de douleur... Lou tenait toute la place, Sonia vivait dans son ombre: le gouffre n'en est que plus profond...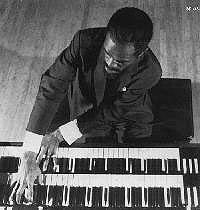 Lou Bennett played with ...
(underlined names are linked to other websites)
• A •

LUCHO AGUILAR, NAPOLEON ALLEN, JOAN AMERIC

• B •

EVERETT BARKSDALE, RICARDO BELDA, CHARLES BELLONZI, PACO BERNAL, LOU BLACKBURN, JIMMY BREEDLOVE, BILLY BROOKS, GLENN BROOKS, DONALD BYRD

• C •

RAMÓN CARDO, JUAN "PETI" CASTRO, PHILIP CATHERINE, SIMONE CHEVALIER, EUGEN CICERO, KENNY CLARKE, ARNETT COLEMAN, GEORGE COLLIER, ANDRÉ CONDOUANT, DEAN COOPER, VICENT CORTINA, ADOLFO CRESPO, IRA CRISS, FELIPE CUCCIARDI, KING CURTIS

• D •

RUBEM DANTAS, EDDIE "LOCKJAW" DAVIS, LES DEAN SISTERS, JACQUES DI DONATO, DANY DORIZ, ISABELLE DUTHOIT

• E •

ROLF ERICSON, WIM ESSED, RICARDO ESTEVE

• F •

NURIA FELIU

• G •

LEONARD GASKIN, HERB GELLER, SOLE GIMENEZ, JIMMY GOURLEY, JOHNNY GRIFFIN

• H •

JOE HACKBARTH, SLIDE HAMPTON, PHIL HARRIS, MICHEL HERR, STEVE HOUBEN

• I •

FLAVIO IBBA, JEAN-MARIE INGRAND, TONY INZALACO


• J •

OLIVER JACKSON, ROBERT JEANNE, J. J. JOHNSON, OSI JOHNSON, CARMELL JONES, CHARLES "BIG" JONES, HENRY JONES

• K •

INGO KRAMER

• L •

VALTO LAITINEN, ROBERT LEE, AL LEVITT, JIMMY LEWIS, LOTI LEWIS, LUIS LLARIO, PIERRE LOUIS, BERNARD LUBAT, RAY LUCAS


• M •

NACHO MAÑÓ, FRANCO MANZECCHI, DEREK MARTIN, TEDDY MARTIN, TONY MIDDLETON, RONNIE MILLER, TETE MONTOLIU, VIN MORRIS, IDRIS MUHAMMAD

• N •

GUILLAUME NATUREL, GILLES NATUREL, JOE NAY

• O •

CHARLES ORIEUX

• P •

JORGE PARDO, ÅKE PERSSON, MILO PAVLOVIC, JACQUES PELZER

• Q •

BENOIT QUERSIN

• R •

WALLY RICHARDSON, GILBERT ROVÈRE, GILLES ROVÈRE, JOHN RUOCCO

• S •

ABDU SALIM, JACK SELS, ART SIMMONS, FELIX SIMTAINE, HENRI SOLBACH, MEMPHIS SLIM, DANNY SMALL

• T •

XIMO TÉBAR, RENÉ THOMAS

• W •

LEO WRIGHT, PEER WYBORIS

• •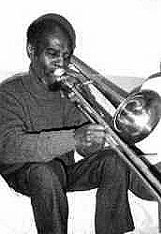 [

A

] article [

C

] concert review [

D

] discography [

I

] interview [

O

] obituary [

P

] photo [

R

] record review
articles:


PERIODIQUES DE LA MAISON DU
JAZZ MAGAZINE


JAZZ MAGAZINE

[France] #060 (June 1960), p. 15,
[

A

/

P

]
cover: Mimi Perrin/Annie Ross; Jean-Robert Masson: Lou Bennett ; Pierre Michelot, Percy Heath, Lambert Hendricks & Ross


JAZZ MAGAZINE

#061 (Jul./Aug.1960), p.15 [

A

/

P

],
cover: Charlie Mingus; Jean-Robert Masson: Un organiste de Baltimore. Lou Bennett est venu chercher la consecration de Paris ;Pierre Cullaz, Les Spann


JAZZ MAGAZINE

#076 (November 1961),
cover: Dizzy Gillespie ; Lou Bennett, Bob Brookmeyer, Gerry Mulligan, Wes Montgomery, Lucien Malson


JAZZ MAGAZINE

#113 (1964), p. 69, [

C

]
J.-L. Ginibre: "Lou et les hommes d'Hammond".


JAZZ MAGAZINE

#122 (September 1965),
cover: Woody Herman ; Lou Bennett / Pol's Jazz Club, Antibes, Art Farmer, McCoy Tyner, Ferré, Sal Nistico


JAZZ MAGAZINE

#149 (December 1967),
cover: Roland Kirk ; Lou Bennett, Finlande-Fest, Prague, Lugano, Dusko Goykovic, Shepp, Griffin, Woods


JAZZ MAGAZINE

#164 (1969), p.12-13,
J. Levin: Blue Lou.


JAZZ MAGAZINE

#231 (March 1975),
cover: Chris McGregor ; René Thomas (par Lou Bennett), Philip Catherine, Al Jones, Aldo Romano, Jean-François Jenny-Clark.




JAZZ MAGAZINE

#246 (August 1976),
features Lou Bennett.



JAZZMAGAZINE

#255 (June 1977), p. 8 [

C

],
Claude Baro: En direct. Lou Bennett.


JAZZ MAGAZINE

#285 (April 1980), p. 9 [

C

],
Jeff Gardner: Jazz en direct. Bennett/Levitt.


JAZZ MAGAZINE

#324 (1983), p. 12-13 [

C

],
Michel Laverdure: Jazz en direct. Lou Bennett, Toulouse, Cave des Blanchers.

NEW MUSICAL EXPRESS #909 (June 12, 1964),
Potted pops (a. o. Lou Bennett)




DOWNBEAT

(August 20, 1970)
This issue has the International Jazz Critics Poll and they submitted names in seperate categories... Lou Bennett was in the organ category with his photo (about 1/8 of a page) receiving 18 votes over the other four in that category.




MUSICA JAZZ

#4 (April 1971), Italy [

C

]
April: Ella Fitzgerald - articles: discussions about jazz and pop music; concerts review: Rome: Lou Bennett, Phil Woods Quartet, Kenny Clarke Sextet, Dusko Goykovich Quintet, Robin Kenyatta Quintet, Milan, John Mayall, James Brown, etc.



JAZZ HOT [France] #367 (November 1979),
p. 43-44 [

C

]
Maurice Cullaz: Concerts. Lou au Club.
JAZZ HOT

#539 (April 1997), p. 8 [

A

/

O

]
Felix W. Sportis: Larmes. Lou Bennett - Amen



JAZZ IN TIME

#59 (February 1995), p. 4 [

A

]
Jean-Pol Schroeder: Lou Bennett. Back in Belgium.



CUADERNOS DE JAZZ

[Spain] #34 (5/6/1996),
p. 20-32 [

A

]
Javier de Cambra: Lou Bennett. 70 Aniversario.



JAZZOLOGY

[Spain] #12 (December 1997),
p. 16 [

A

/

O

]
NN: Lou Bennett. La huella de una presencia.



bibliography:


L. Feather: The Encyclopedia of Jazz in the Sixties (New York, 1966/R1984)

Mike Hennessey: We Remember Klook, in:
Mike Hennessey: Klook. The Story of Kenny Clarke, London 1990 [book], p. 228-229 [

I

]

A. Gildo: "Lou Bennett & Kenny Clarke",
Jazz Blues and Co., nos. 52-4 (1982), 4 [

I

]








history of the hammond organ
concerts in spain
esteponajazz
sevilla jazz fest
jazzaldia.com
pescarajazz
jazzterrassa
grenoble jazz fest
cmusanjuan.com/club/historiaclub




online biographies:


Lou Bennett on facebook



Pete Fallico´s Jazz organ site


THE DOODLIN´ LOUNGE

Lou Bennett at Theatreorgans

Lou Bennett vu par Eddy Delhaye




biography & discography


Checkout.com
Getmusic.com




discographies


Tributetohammond.com
masimas.com/records/catalogo/discos...


photos obituario

broadcasts:


ORTF radio or TV, broadcasted: 1964
broadcast and host name: Andre Francis
recorded: Nov 6, 1964 Salle Gaveau, Paris/France
RENÉ THOMAS (g), LOU BENNETT (org), KENNY CLARKE (dr)
1. J. J. (Clarke)
2. Meeting (Thomas)
3. Echoes (Bennett)
4. Satin Doll (Ellington)
5. Night In Tunisia (Gillespie-Paparelli)
There is a little review in Jazz Magazine #

113





videos:


VIDEOTHEQUE DE LA MAISON DU JAZZ -K L-
Jazz Collection / Bernard Lubat
B. LUBAT (p, acc, perc, dr, vib) + collect 1. Lubat (vib, p, perc)
x (b) 2. Compagnie Lubat (Uzeste) 3. visite prof, perc sur piano
4. JACQUES DI DONATO, ISABELLE DUTHOIT (cl)
5. KENNY CLARKE (dr) L. BENNETT (org) 6. Lubat (p)



VIDEOTHEQUE DE LA MAISON DU JAZZ -S-


Au Conservatoire / SAXO 1000
April 4, 1980
JACQUES PELZER (as, ss, fl); STEVE HOUBEN (fl); ROBERT JEANNE (ts); JOHN RUOCCO (ts); HENRI SOLBACH (sax, fl, cl); MICHEL HERR (p); WIM ESSED (cb); FELIX SIMTAINE (dr); Prés. N. Dor
1. Meeting
2. Juliette
3. I Remember Sonny
4. Theme For Freddie
5. Theme For Leo
+ interview LOU BENNETT, JACQUES PELZER, JIMMY GOURLEY, AL LEVITT
Jazz au Blue Note
filmed 1962 in Paris/France, 55 min, Secam VHS
KENNY CLARKE (dr); LOU BENNETT (org); HERB GELLER (as); JIMMY GOURLEY (g); SIMONE CHEVALIER (voc)
1. It All Comes To Me Now<
2. Red Cross
3. Honeysuckle Rose
4. Jay Jay
5. Lover Man
6. Satin Doll
7. Let's Face The Music And Dance
8. How About You
9. Low Life
10. Set 'Em Up
+ a Jam at "Trois Malletts" with ALBERT MANGELSDORFF (tb) plus TRUMPETS THREE

1
2
biography I discography
1
2
3